Are you looking for the perfect Valentine's gift for your sweetheart? Surprise your special person with a work of art! Wallector's curators selected 5 for you.
If using the word AMORE is enough to leave your partner breathless, then the artwork by Robert Indiana, Love Rising, is the one for you. In this marvelous masterpiece of the American artist, the writing Love, designed in 1964 for a Christmas postcard of the MoMA, entered the collective imaginary and was exhibited everywhere in the world, from the museums of St. Petersburg to the streets of Philadelphia. Why not hanging it also on the walls of your house?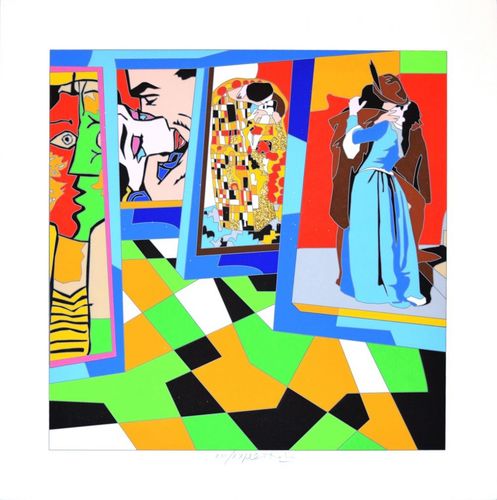 For Valentine's day, say it with a kiss: the colorful serigraphy of Ugo Nespolo will melt even the coldest hearts. From the portfolio Lush Life, this graphic work represents some of the most beautiful kisses of history: from the more romantic kiss of Francesco Hayez, to the sweeter hug of Gustav Klimt, to the more modern kisses depicted by Pablo Picasso and Roy Lichtenstein.
Have you ever dreamt of giving to your loved one a weekend in the most romantic city in the world, but your plans blew off? No problem, the works of art by Orfeo Tamburi will make you re-experience fully the idyllic Parisian glimpses, boulevards, lit-up bistros, and the romantic walks along the Seine banks.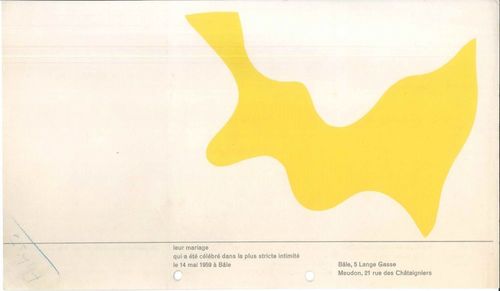 For the hopeless romantics who chose Valentine's day for their decisive marriage proposals, here is the right gift for you. The wedding participation of Jean Hans Arp – illustrated by the artist himself – will make your fiancé or fiancée foretaste the moment when you will marry in front of the altar.
Sometimes the simplest gifts are also the most appreciated, and a beautiful flower bouquet is among the most chosen objects to celebrate the most romantic day of the year. Yet, if you wish to go against the grain and avoid banal red roses, the colorful flowers painted by Franco Bocchi are what you need. And they last forever, like your love for him or her.