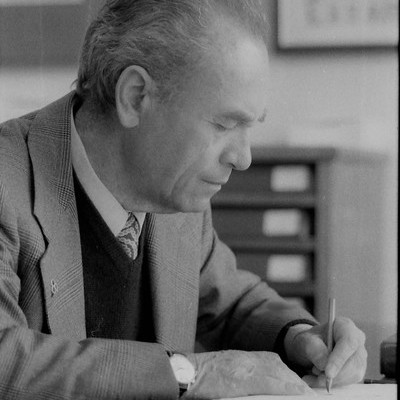 Born in Treviso in 1914, he moved to Venice where he graduated from the local art school and taught drawing in secondary schools. In 1940, when Italy entered World War II, he fought on the Greek-Albanian front as a second lieutenant in the infantry and began writing a war diary that would then be lost. After the Greek campaign, he was transferred, with the German troops, to Crete. With the announcement of the armistice of 8 September 1943 and the disbanding of the Italian army, he was taken prisoner by the Germans and sent to concentration camps first in the Netherlands, then in Poland and Germany. During his imprisonment, he made drawings of the lager and portraits of Italian and German soldiers. He also began writing a prison diary. In 1944, he managed to escape and returned to Italy.
After the war, Biasion resumed teaching and exhibited some works in a Venetian art gallery. The tragic experiences of war and imprisonment are transfused in writings, drawings, paintings and engravings. He also began composing a series of stories, equally inspired by the memories of war, which would give life to Sagapò, a novel that Elio Vittorini had printed in Einaudi's I Gettoni collection in 1953.
He collaborated as an art and literary critic in periodicals such as Il Verri, Le Vie d'Italia, Gazzetta del popolo, Il Resto del Carlino, Corriere d'Informazione. On the weekly newspaper Oggi, he published an art column for thirty-five years.