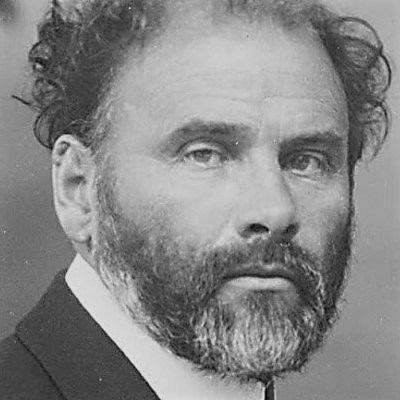 Gustav Klimt (Baumgarten, 1862 – Wien, 1918) was an Austrian painter and one of the most important artists of the Wiener Secession.
His father Ernst Klimt was an orphan, while his mother Anna Finster was a learned woman. All the boys of the family demonstrated a great passion for visual art. Two of Gustav's brothers, Ernst and Georg, became painters too. In 1876, he attended the Kunstgewerbeschule (the Arts and Crafts School), where he studied art until 1883. His art was influenced by Ferdinand Laufberger and Hans Makart. In 1880, he painted four allegories for the Palace Sturany in Wien. In 1888, Klimt obtained the official merit from the emperor Francesco Giuseppe, and became a honorary member of the University of Wien and Munich.
Together with other nineteen artists, Klimt founded the Wiener Sezession and the famous magazine Ver Sacrum. In 1894, the University of Wien commissioned to the artist the decoration of the ceiling of the Great Hall, but the decorations were criticized and rejected. In 1903, Klimt moved to Ravenna, where he discovered the famous Byzantine mosaics. When he returned to Wien, he realized some of his most famous artworks: Judith (1901), The Kiss (1907), and The Portrait of Adele Bloch-Bauer (1907). Klimt realized these masterpieces in the so-called "Golden Period", which ended in 1909 with the making of Judith II. In the same year, Klimt experienced a period of existential and artistic crisis. The third phase of Klimt's artistic production is called the "Mature Period". The works of these years are more colorful, limiting his use of gold. In 1910, he exhibited at the Venice Biennal, and in 1911 he won the first prize at the International Exposition of Art with his famous artwork The Three Ages.