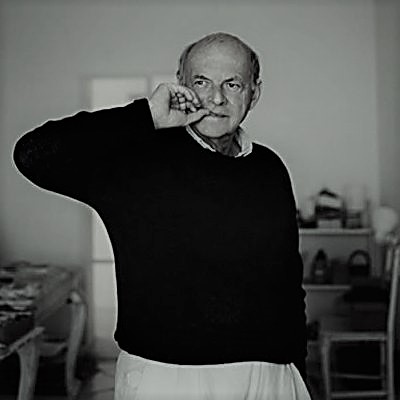 Cy Twombly was born in the U.S.A., in Lexington, Virginia.
From 1947 to 1949, he studied at the School of the Museum of Fine Arts, in Boston, at the Washington and Lee University in Lexington, and at the Art Students League in New York from 1950 to 1951. Twombly is well-known for blurring the line between drawing and painting. Many of his most popular paintings of the late 1960s are reminiscent of a school blackboard someone has practiced cursive "e's" on, or hundreds of years of bathroom graffiti on a wall (for the paintings of the late 1950s and early 1960s). Twombly had done away with painting representational subject matters, favoring lines or smudges, each mark with its own history, as its own subject.
Twombly was invited to exhibit his works at the Venice Biennal in 1964. In 1968, the Milwaukee Art Center held the first retrospective of his art. The artist has also been honored by retrospectives at the Kunsthaus Zürich in 1987, the Musée National d'Art Moderne, in Paris, in 1988, and the Museum of Modern Art, in New York, in 1994, with additional venues in Houston, Texas, Los Angeles, and Berlin. In 2007, an exhibition of Twombly's last paintings was organized to inaugurate the Gagosian Gallery of Rome, city where the artist has lived for a long time.