Lighting is an essential factor in the design of any space. It can create the right ambiance, highlight specific features, and set the tone for the entire room. Murano lamps are an excellent choice for those looking to add style and luxury to their home. These lamps are made from Murano glass, which is renowned for its beauty, quality, and unique designs.
The History of Murano Glassmaking
Murano glassmaking has a long and storied history that dates back to the 13th century. The Venetian Republic banned glassmaking in Venice due to the risk of fire, so all glassmaking activities were moved to the island of Murano. This move allowed Murano glassmakers to hone their craft and develop unique techniques, such as millefiori, lattimo, and filigrana. These techniques are still used today and have become synonymous with Murano glassmaking.
What Makes Murano Lamps Unique?
Murano lamps are unique design objects because they are made from Murano glass, which is known for its quality and beauty. Murano glass is made from silica, soda, lime, and potassium, which are melted together at high temperatures. The glass is then shaped by hand using traditional techniques, such as blowing and molding. Murano lamps are also unique because of their designs. They come in a variety of shapes, sizes, and colors, and often feature intricate patterns and details. Murano lamps are a statement piece that will add style and luxury to any room.
Italian Design and Craftsmanship in Murano Lamps
Italian design and craftsmanship are evident in every Murano lamp. They embody the characteristics of Italian design: a strong artistic heritage, attention to detail, quality craftsmanship, timelessness, and innovation. The lamps are designed to be both functional and beautiful, with attention paid to every detail. The glassmaking techniques used to create Murano lamps are passed down from generation to generation, ensuring that the craftsmanship remains at the highest level. The Italian design aesthetic is also evident in the lamps' colors and shapes.
A curated selection of Murano Lamps 
At Wallector, you can find chandeliers, floor lamps, and table lamps. We have curated a selection of Murano lamps suitable for your home. 
The Murano Chandelier by Gino Vistosi. Its history begins in the second post-war period, when Guglielmo Vistosi, heir to a centenary tradition in Murano glass processing, opens a new furnace in Murano. In the 1950s, thanks to the grandsons Gino and Luciano Vistosi, the company's production began to specialize in lighting items, attracting considerable interest. In 1960, great collaborations began, key to the success of what would become Vetreria Vistosi, which links its production to the names of the most famous designers of the time, including Gae Aulenti, Ettore Sottsass, Adalberto Dal Lago. In 2018, it was awarded as one of the one hundred Italian Excellences for the best Made in Italy.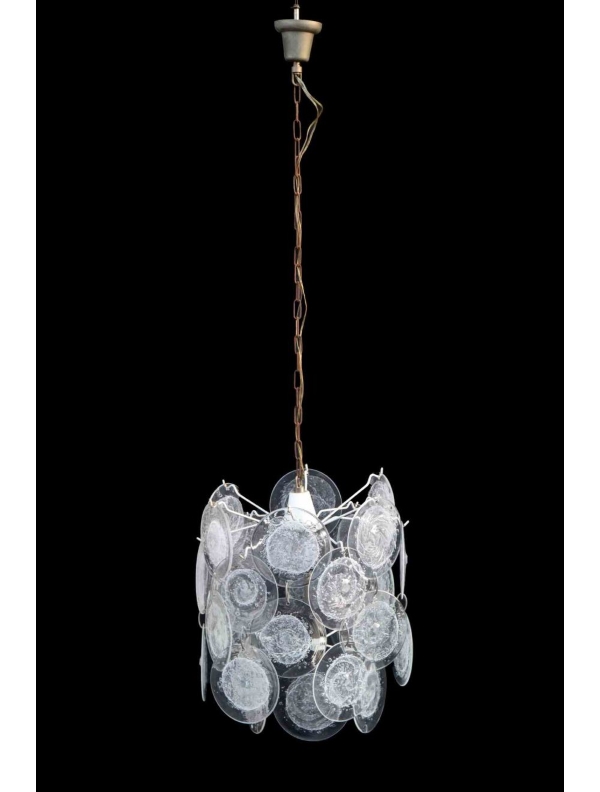 Red design Lamp attributed to Gino Vistosi. It is an original lamp realized in the 1960s. The Red glass lamp is composed by metal, brass and geometrical shape marble base.

Vintage Murano Glass Table Lamp by Carlo Nason is a unique table lamp. Nason is a famous Italian glass artist, his use of historical techniques in producing inventive lamps, vases, and sculptures. Born in 1935 in Murano, Italy. his works are in the collections of the Corning Museum of Glass and The Museum of Modern Art in New York. 
Maintenance and Care Tips for Murano Lamps
Murano lamps require special care to maintain their beauty and quality. The lamps should be cleaned regularly using a soft cloth and mild soap. Harsh chemicals and abrasives should be avoided, as they can damage the glass. It is also important to handle the lamps with care, as they are fragile and can break easily. 
Conclusion 
After the market halted in 2020, the works of the Vistosi glassworks experienced a peak in 2022, indicating a high interest in their artistic production.

In recent years, Carlo Nason's market has remained constant over time. This indicates that it is an excellent alternative investment opportunity.

On Wallector you can find beautiful Murano lamps. They are made from high-quality Murano glass and feature intricate designs that are a testament to Italian design and craftsmanship.