After visiting the 2019 London Masterpiece edition (27th of June - the 3rd of July), I wanted to interview Chris Craig, Sales Director of the London Branch of Bastian Gallery, whose stand really stood out of the crowd at its inaugural participation. Bastian, a major German Gallery, just celebrated the 30th anniversary of his Berlin branch, and opened this same year an outpost in London.
For the Masterpiece fair, they chose Beauty and Horror as theme for their stand, highlighting the oscillation between these two antithetical concepts in the works of three American artists – Rauschenberg, Twombly and Warhol. Apart from these, they presented artworks by Max Pechstein, Ulrich Erben and Pablo Picasso.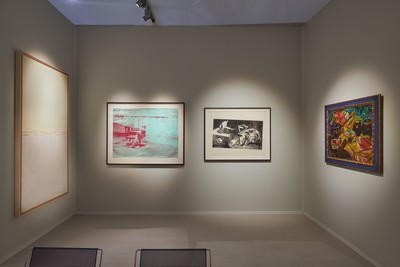 - "Beauty and Horror", why did you choose this theme for your showing?
"It basically chose itself. If you look at the prevailing American art movements of the 50s and 60s in isolation you would never guess at the carnage of the previous decade. America effectively left Europe and its history behind; economically the dollar becomes all powerful and after Rauschenberg wins the Golden Lion at the 1964 Venice Biennale its art also assumes dominance. However, whilst this period can be seen as being without history it is not without humanity, which is seen in the work of the 3 American artists we showed at Masterpiece. Rauschenberg's early collages and assemblages celebrate the mundanity of New York's streets and the detritus he finds on them. Warhol takes commercial design and makes it unique, ultimately owning its valency. He also engages America's fascination with the macabre in his Disaster Series, which includes Electric Chair and Car Crash that we showed. Finally, Twombly's Captiva Island series looks at the natural world through his own unique prism; synthesising his reading of textbooks and studies of nature into his hallmark gestures which are simultaneously alluring and impregnable for the viewer. In the minds of each of these artists the horrific can be beautiful, but beauty can be scarier still."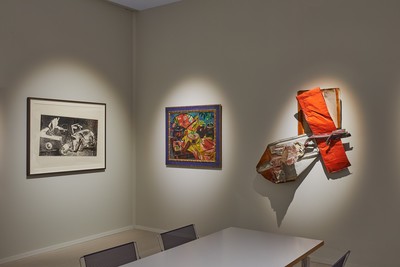 - How did you find out about this 10th edition of Masterpiece London?
"This was BASTIAN's first year at the fair so we have no past experience to compare this edition to previous ones, but Masterpiece is a multi-discipline Art fair, in the same style as TEFAF which we do have experience with. This makes it a totally different marketplace to a fine art focused fair such as Art Basel or Frieze. Given the large and varied number of visitors, it is very good platform for meeting new people and engaging people for whom collecting art has not been a priority and who we would never meet otherwise. It does also mean that buyers for can be few and far between."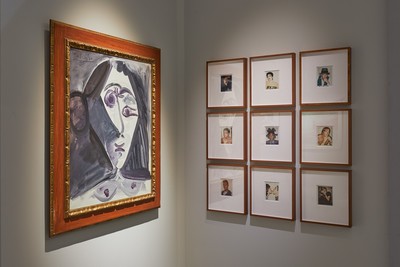 - Although the Masterpiece director encouraged exhibitors to put the prices on the tags, Bastian Gallery decided not to, why?
"The fashion of showing prices at fairs is quite new, and in fine art focused fairs such as Art Basel or Frieze you will still never find a price on display. However, given the range of price tags that you can find at Masterpiece – from a couple-thousand pounds to millions – the organisers recommend displaying prices as a guide to visitors. From my perspective I just think showing the prices potentially prevents you from having a conversation with a client who can just walk on and off the stand without being engaged, for this reason we chose not to show our prices."
- The modern installations inside and outside Masterpiece Fair have raised some controversies for having been chosen for their "Instagramability" rather than their artistic merit. What do you think about that?
"The installations have been a part of the fair programme for years. I don't believe that they were added just for Instagram (there are plenty of other things at the fair which are more photogenic). Even if they were, if it enhances the profile and visibility of the fair then it is a good thing."
- Thank you for your time Mr. Craig, it has been a real pleasure.
"The pleasure is all mine."