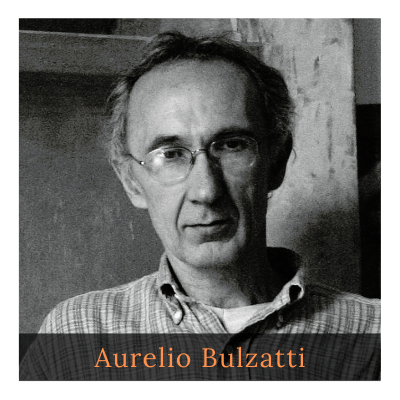 Aurelio Bulzatti was born in Argenta (Province of Ferrara, Italy) in 1954.  He studied and graduated from the Academy of Fine Arts in Bologna. He moved to Rome in 1981 to collaborate with two solo exhibitions with the gallery of Plinio De Martiis "La Tartaruga". In that environment, he theorises and practices the return to painting and the picture after the long and tired adventure of conceptual art. In 1984, he participated in the XLI Biennale of Venice and the XI Quadriennale in Rome. In the 90s he began his collaboration with the Netta Vespignani gallery with two solo and numerous group exhibitions. In 1996 he was invited to the XII Quadriennale in Rome.
In 2000 personal exhibitions were held at the gallery 37 in Palermo, at the A.A.M. by Francesco Moschini in Rome, at the Ciampino Contemporary Art Gallery with over 40 works, then he was invited to the "Italian Art 1968-2007" exhibition at the Palazzo Reale in Milan. He participated in the LIV Venice Biennale in the Italian Pavilion, then at the MACRO museum in Rome on two occasions, 'Arte a Roma 1960-2000', and within the same museum for a week he painted a picture in the "ATELIER" exhibition.
At the MAXXI museum of Rome he exhibits at the conference "Partorire con l'arte l'arte del partorire" (Giving birth with art, the art of giving birth). In 2016 he participated in the collective "Matchless Gifts" at the Bhakti Center in New York.