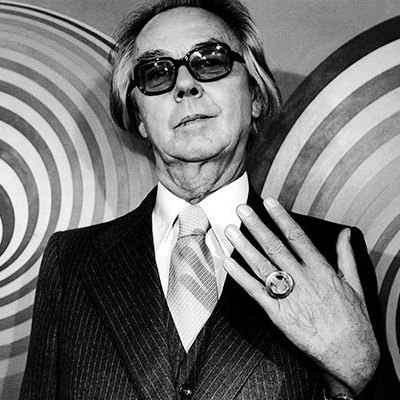 Victor Vasarely was born in Pées in 1908.
He studied in Hungary, at the Padolini-Volkmann Academy. Later on, he attended the school Muhely in Budapest. Here, he met the constructivist Kandinsky. In 1930, he moved to Paris, where he began working as graphic designer in the advertising sector, getting in contact with groups of artists. In 1944, he took part in the foundation of the Galleria Denise Réné of Paris, where he organized his first show.
Some portraits realized in the mid 40s prove his interest in post-Cubist painting. The artist began exploring art concepts, focusing more and more on the relation between aesthetic research and industrial society. Vasarely became the protagonist of Kinetic Art, realizing artworks in both two and three dimensions. He sought dynamism on the painting surface, and thought about the optical and psychological effects of the work on the public.
The artist is considered one of the founders of Op-Art, the international artistic movement that originated in the end of the 50s and that developed the concepts of Bauhaus, Futurism, and Dadaism.
In 1970, the artist created a Didactic Museum at his Castle of Gordes in France. In 1976, the Museum Vasarely was founded in Pées.