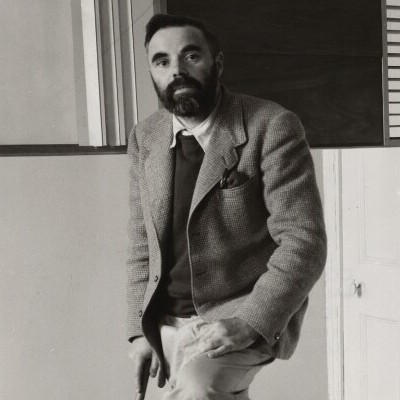 Victor Pasmore (Chelsam, 1908 – Malta, 1998) was an English artist and sculptor.
He attended the Harrow School, and showed a strong interest in painting. He was influenced by the French Impressionist painters and by William Turner, whom he discovered at the Tate Gallery of London. In the 1930s, he opened his studio in Devonshire Street, where he also attended the Central School of Arts and Crafts. Afterwards, he moved to London, where he worked as clerk until 1937.
In 1933, he was elected member of the London Artist's Association, headed by Roger Fry. In the same year, he exhibited his works for the first time at the Association's Cooling Galleries in Bond Street. In 1937, he founded a school with other English artists (like Graham Bell, William Coldstream, and Claude Rogers). In 1945-46, he moved to Blackheath, where he began experimenting with pure abstract forms influenced by Kandinsky, Arp, and Mondrian. In 1960, he represented Britain at the Venice Biennal with a retrospective exhibition. During the 1960s, he began realizing graphic works. In 1976, he won the Grand Prix d'Honneur at the International Graphics Biennal of Ljubljana. In 1999, the Marlborough Fine Art Museum in London dedicated to him an important retrospective in his memory.