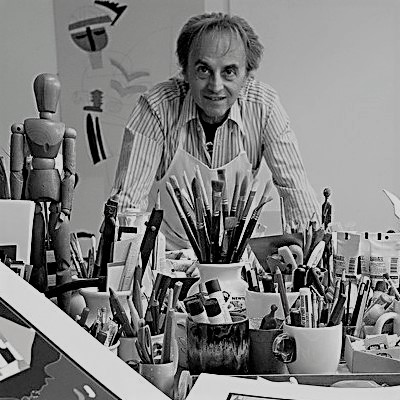 Ugo Nespolo (Mosso, 1941) is an Italian artist and designer.
He attended the Academy of Fine Arts of Turin, and then he graduated in Modern Literature. During the 1960s, he debuted in the Italian artistic scene. His first work was a mix between Pop and Conceptual Art, under the influence of Italian Arte Povera. During the following years, he realized ironic works inspired by illustrations for children. During the 1980s, his artworks represented American objects and places. He collaborated with RAI television and with advertising agencies realizing television theme songs and spots. In the 1990s, he worked also for theater, designing costumes and scenographies. During this period, he realized costumes for L'elisir D'Amore by Donizetti at the Opera House of Rome, Paris, Losanna, Liegi, and Metz.
In the 2000s, he realized his personal atelier inside an abandoned factory in Turin, which still preserves his creations, his artworks, and his "Technologic Games". In 2007, he realized costumes for Madama Butterfly, which inaugurated the 53rd Season of the Puccini Festival. The following year, he curated "Nespolo legge Dante", a tryptich commissioned by De Agostini for a reading of Dante's Divina Commedia through visual art. In the same period, he exhibited at the Walter Wickiser Gallery in New York, and at the Museum of Cinema in Turin. He collaborated with several important advertising agencies: Campari, Piaggio, and Caffarel. In 2016, he joined the "Corporate Art" movement with Luca Desiata, Alexander Ponomarev, Fernando De Filippi, and many other artists. The artist currently lives and works in Turin.