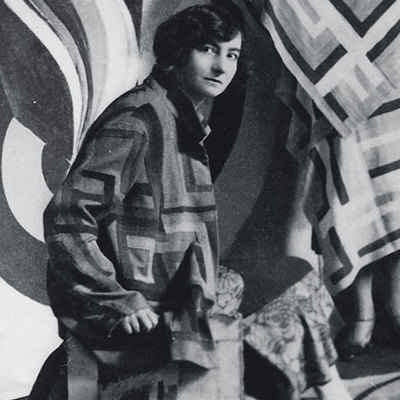 Sonia Delaunay (Sofia Ilinitchna Terk) (Gradizhsk, 1885 – Paris, 1979) was a Russian painter, illustrator, and designer.
She studied drawing in St. Petersburg and then in Germany. In 1905, she moved to Paris, where her work was influenced by Post-Impressionist and Fauvist artists. After some years, she married the artist Robert Delaunay, and together they created a particular painting expression, inspired by Cubism, the so-called Orphism.
Delaunay's artworks are characterized by Expressionist pure colors. Sonia applied Orphist characteristics to design and fashion production. During the 1920s, her clothes influenced international fashion. During the 1930s, she focused on painting and became a member of the artistic group "Abstraction-Création". Sonia and her husband Robert realized several artworks for public projects, and collaborated on several murals for the Paris Exposition in 1937. After Robert's death, Sonia continued to produce art and to exhibit it in the most famous museums in the world. In 1964, she was the only woman who exhibited at the Louvre Museum of Paris.