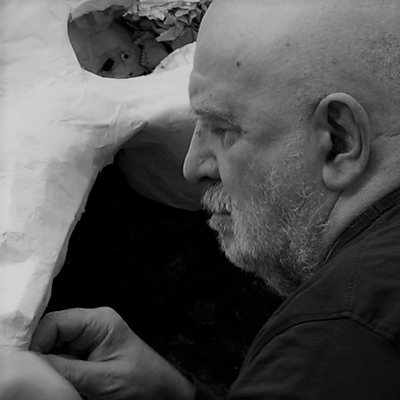 Plinio Mesciulam (Genoa, 1926)
In 1948, the Italian artist was present at the V Quadrennial in Rome in the room of the abstractionists, together with Dorazio, Vedova, Munari, Soldati, and Consagra. In March 1950, he held a personal exhibition of 1949 drawings at the Caffè Venchi in Genoa, the first of an abstract-informal nature in Liguria, in which he wanted to affirm the autonomy of the gesture. From 1952 to 1954, Mesciulam was part of the promoting committee of the MAC - Concrete Art Movement, developing research on the relationship between color-form-architectural space.
In the following years, his paintings turned black and the artist devoted himself passionately to the study of the New Testament. He felt the need of referring to the art of the past (especially to seventeenth-century painting), in a tendency that met and intruded with the discovery of a material magma (Vinavil and sawdust), in assonance with the contemporary Art Brut.
From 1963, the images no longer came out "from the inside", but were processed on those provided by advertisements. He also worked on the "word-image". Research on visual communication continued and, until today, it has reinvented itself a thousand times, always questioning every form of art.