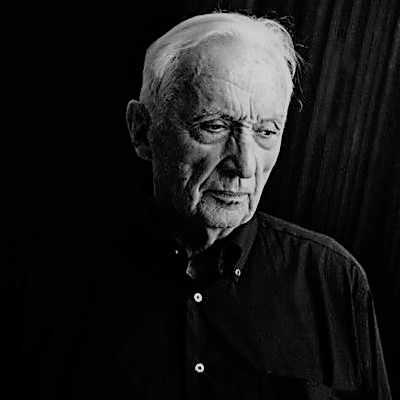 Pierre Soulages (Rodez, 1919) is the French painter described as "the world's greatest living artist" by Francois Hollande.
Also known as "the painter of black", owing to his interest in color "both as a color and as a non-color". Pierre Soulages is the painter who searched for light in the black, as he himself says. He sees light as a work material; striations on the black surfaces of his paintings reflect light, allowing the black to come out of darkness into brightness.
He found his vocation after the military service, and opened a studio in Paris, presenting his first exhibition at the Salon des Indépendants in 1947. Soulages is the first living artist invited to exhibit at the Hermitage Museum of St. Petersburg and later at the Tretyakov Gallery in Moscow (2001). He has also worked as a designer of stage sets. In 1979, Pierre Soulages was made a Foreign Honorary Member of the American Academy of Arts and Letters.
In 2007, the Musée Fabre of Montpellier devoted an entire room to Soulages, presenting his donation to the city: twenty paintings dating from 1951 to 2006, among which major works from the 1960s, two large plus-black works from the 1970s, and several large polyptychs.
A retrospective of his art was held at the Centre National d'Art et de Culture Georges Pompidou in 2010. In 2010, the Museo de la Ciudad de Mexico presented his retrospective.
In 2014, Musée Soulages opened in Rodez, Soulages' hometown. A museum dedicated to permanently displaying his works in addition to temporary contemporary exhibitions. Soulages donated 500 works, giving life to the most complete collection of his works from the first 30 years of his career.