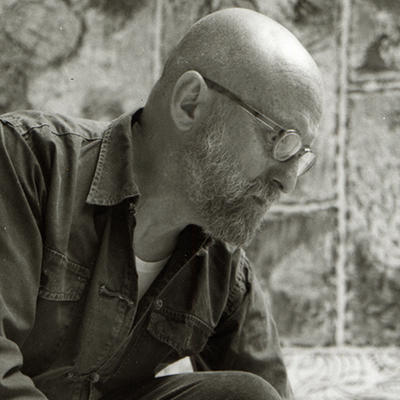 Pierre Alechinsky (Schaerbeek, Belgium, 1927)
The Belgian artist is well-known for his artistic production related to Tachisme, Abstract Expressionism, and Lyrical Abstraction.
In 1944, he attended the École nationale supérieure d'Architecture et des Arts décoratifs de La Cambre, where he studied illustration techniques, printing, and photography. In 1945, he discovered the work by Henri Michaux, Jean Dubuffet, and became friends with the art critic Jacques Putman. In 1949, together with Christian Dotremont, Karel Appel, Constant, Jan Nieuwenhuys, and Asger Jorn, he became a member of the art group Cobra.
In 1954, he had his first exhibition in Paris and started becoming more and more interested in Chinese and Japanese calligraphy. This passion led him to become the Paris correspondent for the Japanese journal Bokubi published by Morita Shiryu of the Bokujinkai group, and later he left for Japan with his wife. He exhibited Night (1952) at the Ohara Museum of Art, in Kurashiki, and made the film Japanese Calligraphy – Christian Dotremont would write the commentary with music by André Souris.
His international career continued successfully throughout the 70s, and by 1983 he became Professor of Painting at the École nationale supérieure des Beaux-Arts, in Paris. His works are held in the collections of the Royal Museums of Fine Arts of Belgium, the Tate, the Museum Ludwig in Cologne, the New York Museum of Modern Art, the Walker Art Center in Minneapolis, and the Museum of Art Fort Lauderdale, Nova Southeastern University in Fort Lauderdale in Florida.