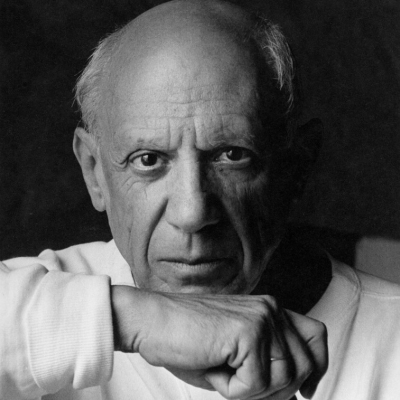 Pablo Picasso (Malaga, 1881 – Moujins, 1973) was a Spanish painter, sculptor, printmaker, ceramicist, stage designer, poet, and playwright who spent most of his adult life in France. As one of the greatest and most influential artists of the 20th century, he is known for the foundation the Cubist movement, the invention of constructed sculpture, the co-invention of collage, and the wide variety of styles that he has helped to develop and explore.
Picasso, Henri Matisse, and Marcel Duchamp are considered the three artists who most defined the revolutionary developments of plastic arts in the first decades of the 20th century.
Picasso demonstrated an extraordinary artistic talent in his early years, painting figuratively throughout his childhood and adolescence.
Then his style changed as he experimented with different theories, techniques, and ideas. His work is often categorized into periods. The periods of his oeuvre are: the Blue Period (1901–1904), the Pink Period (1904–1906), the African-influenced Period (1907–1909), Analytic Cubism (1909–1912), and Synthetic Cubism (1912–1919).
Exceptionally prolific over the entire course of his long life, Picasso achieved universal fame and immense fortune for his revolutionary artistic accomplishments in 20th-century art.