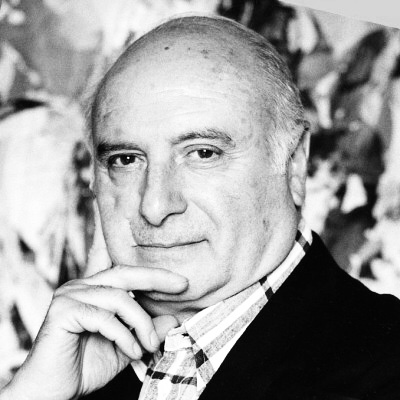 Mimmo Rotella was an Italian artist who became famous for his "decollages", i.e. artworks realised by tearing off an overlapping stack of posters (mostly film commercials and circus shows) from a wall. The resulting artwork presents lacerations and bands of paper glue, creating an effect of visionary intensity. Rotella invented this technique in 1953 in Rome. He was a member of the Nouveau Réalisme group, founded by Pierre Restany in 1960, whose other members included Yves Klein, Arman and Jean Tinguely.
In 1992, he received the title of "Officiel des Arts et des Lettres" from the Minister of the French Culture, Jack Lang. In 2000, the "Mimmo Rotella Foundation" was constituted with the purpose of collecting the artist's works and documentations of his life. In 2004, Rotella received the Honoris Causa Degree at the "Università degli Studi Mediterranei" of Reggio Calabria.
We can't find products matching the selection.
Featured
Secure and Fast Shipping
Tracked international shipping
Purchase protection
Fully protected from checkout to delivery
Collector Guarantee
Original items certified by our curators