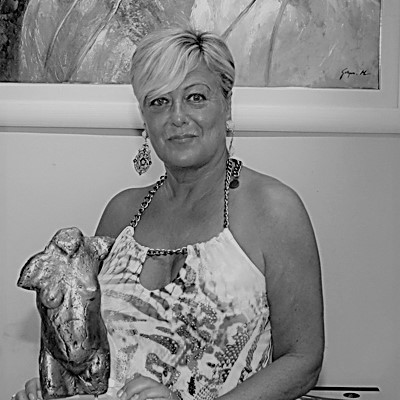 Martine Goeyens (1953) is a Belgian artist who began her artistic training as a student of Master Lafaille, the greatest Belgian painter of the time. In this period, she learnt the technique "en plein air"; her talent and her spontaneous creativity would do the rest. In Martine Goeyens' painting, there is no human presence; nature predominates undisputed, sometimes enclosed in a vase of flowers, sometimes in a village scattered around houses.
Her art is both archaic and modern. The colorful atmospheres transmit emotions. Today, her unique style is so appreciated internationally that she was awarded numerous prestigious prizes: Best Painter "en plein air" in Sainte Maxime by Provence Beyond (F) 2001, president of the jury André Verdè, art critic of Pablo Picasso, and Lorenzo Bonini, director and official critic of Art Leader; Premio Capo Circeo 2003; the prestigious "Istria Arte" on the Croatian island of Krk in 2005.
Many of her works are exhibited in important museums, such as the Hudson Gallery in Detroit (USA), the Museum of Modern Art in Melbourn (Australia), the Tokyo National Museum, and many more. She lives and works between Belgium and Italy.