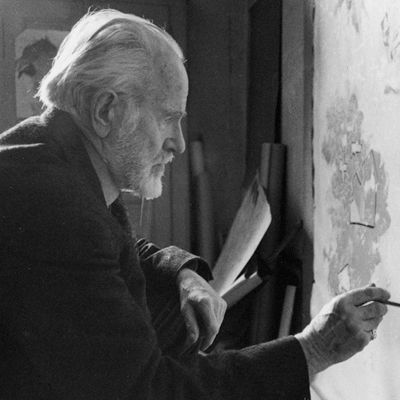 Mark Tobey (United States, 1890 – Basel, 1976) was an important and popular American artist.
He was born in Wisconsin (USA). In 1909, he moved to Chicago, where he was employed as fashion illustrator, a profession that he kept practicing when he moved to New York two years later. When he moved to New York, he worked as artist for McCall's Magazine, and reached success as portraitist. In 1918, he was introduced to the Bahai World Faith, a lifestyle and religion that promotes universal consciousness.
In the 1930s, he taught art in Devon, England; in the same years, he started studying Oriental philosophy and art in China. He also dwelled in a Zen monastery in Japan. In 1958, he became the second American artist, after Whistler, to win the International Grand Prize at the Venice Biennal. In 1960, he moved to Switzerland with his wife for the rest of his life. He died in Basel in 1976.
His signature style was a visual manifestation of the interrelationship between art and nature. The artist is well-known for his calligraphic "white writing" style, and became one of the most renowned and internationally respected American artists during the 1950s and 1960s. The white writing compositions are a result of his experimentation with Chinese calligraphy and with vibrating movement and light.
Mark Tobey is considered one of the most important American painters of the XX century. In both his life and artworks, he expressed an interest in mystical states of mind. Indeed, he is considered a "mystical painter". The artist is one of the pioneers of an artistic ferment that culminated, in the second part of the century, in Abstract Expressionism.