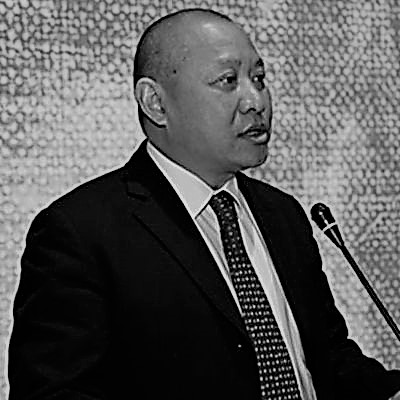 Li Lei's painting is an attractive dream, in which the eye loses its reference to common dimensions and enters a parallel world made of lines and colors, in which signs and symbols start a natural dance. The importance of these works lies in the fact that this is a brand-new kind of painting, where the canvas forgets about the paintbrush in order to be touched by different tools.
Li Lei was born in1965 inShanghai. In 1976, at the young age of 10, he attends the "People's Fine Arts Course" and wins a prize in the national fine arts contest for amateurs organized by CCTV. In 1980, he enters the applied art class of Huashan Fine Arts Vocational School.
His first exhibition and publication occur in 1982, when the Shanghai Fine Arts Exhibition includes his decorative paintings and the Shanghai Literature publishes them. In 1983, he enters the Shanghai Fine Arts Design Company, and then he participates in the Shanghai Youth Biennial and Shanghai International Art Festival in the Shanghai Art Museum.
When he is 25, he takes part in the Fifth Tai Wan International Print Art Biennial at the Taipei Fine Arts Museum. From this moment, Li Lei finds success in his art career and participates in many shows: he invented a new kind of oil painting. In the following years, he organizes many exhibitions around the world: China, Korea, Netherlands, Germany, USA, and more. In 2005, he becomes Executive Manager of the Shanghai Art Museum.
In 1996, he creates many series of paintings: "Imperial sacrifices Flower", "Recalled Chiangnan", "Image Military yi", "Is drunk Lake", etc. Li Lei's works are included in many collections around the world: Beijing and Shanghai, New York, Frankfurt and Linz, Amsterdam and Bork Smale, and Brussels. Among his publications: "Marine Oil painting Famous expert - Li Lei", Shanghai Bookstore Publishing house; "Chinese Present Age Artist Picture Passes on - Li Lei, Poetic sentiment Abstractly", the Hebei education publishing house; "China Today Present age Artist - Li Lei, Building Person of high skill Far-off skies Like Water", the Sichuan fine arts publishing house.