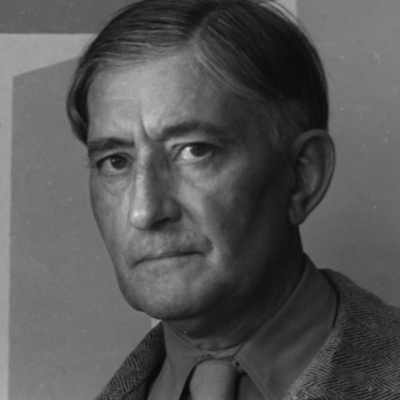 Josef Albers (Germany, 1888 - Connecticut, 1976) studied lithography in Essen and attended the Academy in Munich before entering the Weimar Bauhaus in 1920, where he was noticed for his stained glass works. In a few years, he was promoted from Bauhausgeselle (skilled worker) to responsible for the glass laboratory. When in 1925 the Bauhaus moved to Dessau, he became Bauhausmeister (professor). In addition to working with glass and metal, the artist designed furniture.
After the forced closure of the Bauhaus in 1933, Albers emigrated to the United States. In the same year, he became director of the art department at Black Mountain College, near Asheville, in North Carolina. In 1935, he made his first of many trips to Mexico, and the following year he held his first solo show in New York at the J. B. Neumann's New Art Circle. He became an American citizen in 1939. In 1949, the artist made his first studies, in black and white, of the famous series of paintings Omaggio al Quadrato: a series of the 1950s and 60s, which focused on the simplification of form and the interplay of shape and color.
He taught in various colleges and universities in the United States; from 1950 to 1958, he directed the design department at Yale University. In addition to painting, engraving, the execution of murals, and architectural commissions, Albers published poetry, articles, and books on art.
As a theorist of color and design, he had a considerable influence on the following generations of young artists and students. From 1965 to 1967, the Museum of Modern Art in New York organized an important itinerant exhibition that was presented in South America, Mexico, and the United States. In 1971, the Metropolitan Museum of Art dedicated an important retrospective to him.
We can't find products matching the selection.
Secure and Fast Shipping
Tracked international shipping
Purchase protection
Fully protected from checkout to delivery
Collector Guarantee
Original items certified by our curators