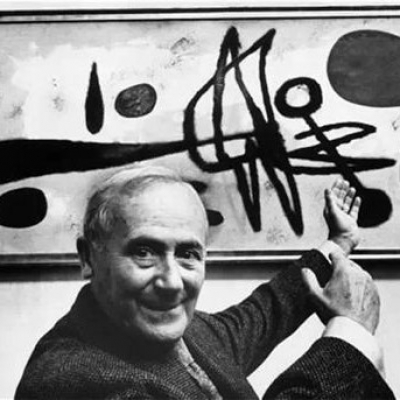 While Joan Miró (1893-1983) rejected any formal association with movements or groups, including the Surrealists, André Breton recognised him as "the most Surrealist of us all". From the beginning, Miró's work included a component of fantasy and hallucination. After Surrealist poets in Paris introduced him to the use of chance in the creation of art, Miró conceived a new painting technique.
His artistic approach encouraged the free play of associations, and envisaged "accidents" to provoke reactions closely connected to subconscious experiences. Miró's famous motifs consist of freely reshaped fragments cut from catalogues for machinery on canvases to form black silhouettes – solid or in outline, with dramatic accents of white and red. Miró described his creative process as a switching back and forth between unconscious and conscious image-making: "Rather than setting out to paint something, I begin painting and as I paint the picture begins to assert itself, or suggest itself under my brush. The form becomes a sign for a woman or a bird as I work… The first stage is free, unconscious… The second stage is carefully calculated". Even the artist could not always explain the meanings of images. They are unprompted and instinctive expressions of the little-understood and unconscious part of life. In 1954, he won the award for graphics at the Venice Biennial, and in 1958 the Guggenheim International Award.
Latest Exhibitions:
2016 Masters of Distinction Opera Gallery Singapore.
2016 Windows on the City: The School of Paris, 1900–1945 ,Guggenheim Museum Bilbao, Bilbao.
2015 New realities in the 20th and 21st Century Opera Gallery, Central Hong Kong.