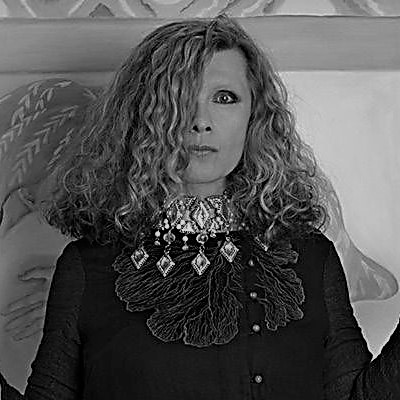 Isabella Tirelli Dan (b. in Reggio Emilia) expresses herself through painting, sculpture, performance, and video, always creating spiritual works inspired by the symbolic alchemy in the world. Her strong belief is that today artists should commit to make the world a better place.
She has exhibited her works in Paris, Madrid, Hamburg, Cairo, London, Luxor, Berlin, Tel Aviv, Beijing, Calcutta, Vilnius, and, of course, in Rome, where she lives.
She financed her studies at the Arts High School in Bologna first and then at the Technical University and the Academy of Brera in Milan by working as a model for many renowned fashion magazines, including Vogue.
She started working as visual artist in 1984 for the Centre George Pompidou in Paris (Statebradi performance), and, after various experiences, in 1989 she was asked to transform a scientific element into a pictorial image for the National Institute of Nuclear Physics of the Gran Sasso (INFN).
Since 1990, thanks to her multifaceted inspiration and love for the Renaissance, she has been a pioneer in the recovery of contents and techniques of this age, such an important era for the entire global culture. Foe this reason, she started using various technologies in combination with different painting techniques taking inspiration precisely from the high Renaissance.
She became a specialist in practicing the "veiling" technique, i.e. paper collages on canvas, as well as in using images of digital painting. She often projects her images on the hand-painted canvas in her interactive installations. Soul and science is her formula. In her interactive installations, she engages the audience and interacts with it, making it become an important part of the work of art.