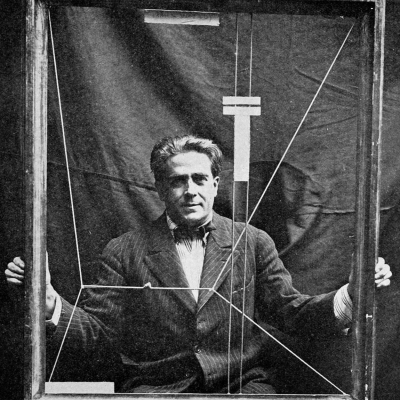 (Paris, France, 1879 - Paris, France, 1953)
French painter, illustrator, designer, writer, and editor, who was successively involved with the art movements Cubism, Dada, and Surrealism. After studying at the Ecole des Arts Decoratifs (1895-1897), he painted for nearly six years in an Impressionist mode akin to that of Alfred Sisley. In 1909 he adopted a Cubist style, and, along with Marcel Duchamp, he helped found in 1911 the Section d'Or, a group of Cubist artists.
Picabia went on to combine the Cubist style with its more lyrical variation known as Orphism in paintings. In these early paintings, he portrayed assemblages of closely fitted, metallic-looking abstract shapes. As Picabia moved away from Cubism to Orphism, his colours and shapes became softer. About 1916 he gave up the Cubist style completely and began to produce the images of satiric, machinelike contrivances that are his chief contribution to Dadaism.
The drawing Universal Prostitution (1916-19) and the painting Amorous Procession (1917) is typical of his Dadaist phase; their association of mechanistic forms with sexual allusions were successfully shocking satires of bourgeois values.
Latest Exhibitions:
2015 Le mot et la chose£¬Galerie Natalie Seroussi, Paris
2016 Francis Picabia: Our Heads Are Round so Our Thoughts Can Change Direction, The Museum of Modern Art, New York.