Anna Laetitia Pecci Blunt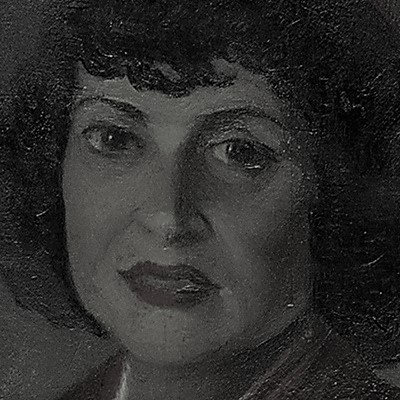 Anna Laetitia Pecci-Blunt (1885 - 1971)
Anna Laetitia Pecci-Blunt, well-known with the name of "Mimì", was born on the 15th of March 1885. Her father, Count Camillo Pecci, was head of the Guardia Nobile Pontificia and nephew of Pope Leo XIII (Vicenzo Gioacchino Pecci). Her mother, Silvia Bueno y Garzon, was a Spanish noblewoman from Cuba.
After a brief stay in Switzerland, the Countess settled in Paris, where she dedicated herself to artistic and intellectual circles, becoming friends with Georges Braque and Jean Cocteau. She was introduced to the wealthy and cultured American banker, Cécil Blunt, son of the collector Ferdinand Blumenthal. The marriage was celebrated in 1919 and the couple dwelled in Paris, where they opened their home to writers, poets, artists, and musicians including Salvador Dalí, Cocteau, Paul Valéry, Francis Poulenc, and Paul Claudel.
In 1929, the Pecci-Blunts decided to spend some time of every year in Rome, and they bought the wonderful palace in Piazza Aracoeli 3 (near the Capitoline Hill and Piazza Venezia) designed by Giacomo della Porta. Like in Paris, this residence became a cultural hub, reflecting Anna Laetitia Pecci-Blunt's desire to foster exchanges between Italian and foreign artists, musicians, and intellectuals. During this period, Pecci-Blunt began acquiring prints, published works, drawings, and paintings thematically focused on the city of Rome, and, for this reason, the collection was called Roma Sparita.
In addition to her collecting activity, Pecci-Blunt's patronage of arts blossomed during this period. She began hosting an annual series of spring concerts at her palazzo and invited musicians such as Darius Milhaud, Arthur Rubinstein, Poulenc, George Auric, Igor Stravinsky, and Nathan Milstein to perform. By 1934, her plan was to open an art gallery. The Galleria della Cometa opened in April 1935, under the direction of the Italian poet Libero de Libero, and featured contemporary artists including AFRO (Afro Basaldella), MIRKO (Mirko Basaldella), Corrado Cagli, Giorgio de Chirico, Guglielmo Janni, and Gino Severini, among others. She adopted the symbol of the comet from her relative, Pope Leo XIII.
Critical political tensions forced the closure of the gallery in Rome in 1938. Anna Laetitia and Cécil Pecci-Blunt spent the years of World War II in New York, before returning to Italy in 1947. She was recognized for her artistic patronage and philanthropy in 1960 with a Medaglia d'oro per l'arte e la cultura, and in 1964, for her encouragement of cross-cultural interchange, with a Légion d'honneur from the French government.