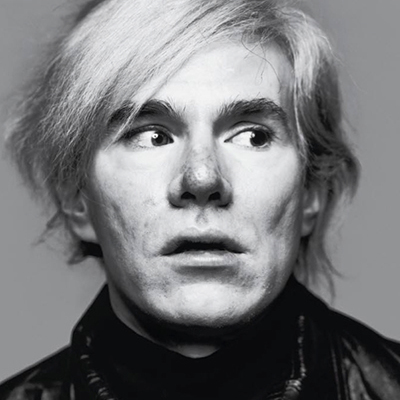 Andy Warhol (Pittsburgh, 1928 – New York, 1987) was a painter, sculptor and producer, and is considered one of the most influential visual artists of the XX century, as well as the founding father of Pop art.
He was born in Pittsburgh (Pennsylvania) from a Slovak family and he soon showed an artistic talent; he studied art advertising at the Carnegie Institute of Technology in Pittsburgh and, after graduating, he moved to New York. He worked for the world of advertising and for several magazines, such as Vogue and Glamour. After his death, the quotation of his work grew exponentially and Warhol's artworks became the best-sellers of the XX century, after Picasso's.
His artistic activity was very intense thanks to the serigraphic system. His works were a declared provocation. Andy Warhol also created several sculptures of his serigraphic works, in different dimensions. The interest in Cinema started in the 1960s, when the artist decided to buy a Bolex camera: the movies of this period can be defined "minimal": Sleep, Kiss, Eat, Blow Job, and Empire show a repeated action over a long period of time.
The workplace of Andy Warhol was the Factory, an open house where everybody could participate. The Factory was considered an "Ideological place", where the concepts of Pop Art became lifestyles. Warhol produced both comic and serious works; his subject could be a soup can or an electric chair. Warhol has always used the same techniques — serially reproduced silkscreens, often painted in bright colors — whether he represented celebrities, everyday objects, or images of suicide, car crashes, and disasters, like in the 1962–63 Death and Disaster series. Although Andy Warhol is well-known for his paintings and films, he also created works in many other media, like audio, drawing, fashion, performance art, theatre, and photography.