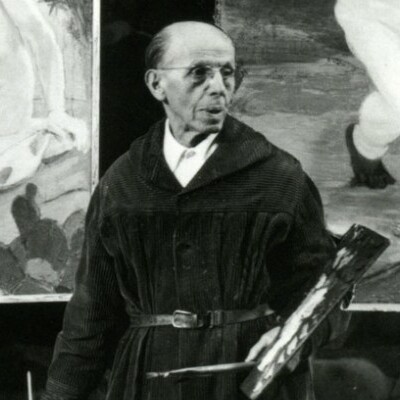 Amedeo Bocchi (Parma, 1883 – Rome, 1976) is an Italian artist whose father made wall decorations. At the age of 12, he enrolled in the Royal Institute of Fine Arts of Parma, under the direction of Cecrope Barilli. In 1901, at the age of 18, he graduated and Barilli prompted him to travel to Rome to visit the Scuola del Nudo in Via Ripetta.
In 1910, he submitted two paintings to the Venice Biennal. He then moved to Padua to work alongside Achille Casanova on the fresco decorations for the Basilica of St. Antonio. He also collaborated with the painters Latino Barilli, Daniele de Strobel, and Renato Brozzi in the restoration of the Sala d'Oro of the Castello di Torrechiara near Parma. He decorated the Sala Consiliare at the Cassa di Risparmio in Parma as well.
In 1915, he began working at the Villa Strohl-Fern in Rome under the patronage of Alfred Strohl. He stayed there for the rest of his life. He was named academician at the Accademia di San Luca in Rome. Since 1999, the Palazzo San Vitale in Parma has hosted the Museo Amedeo Bocchi.