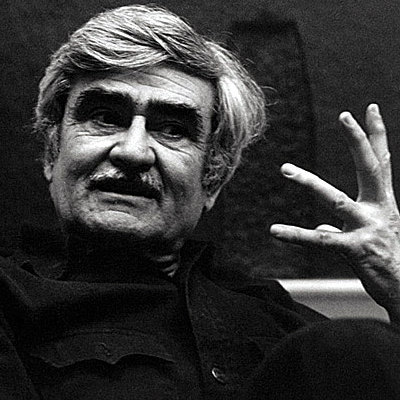 Alberto Burri was an Italian painter.
Burri was a medic during World War II: he was captured by the Americans and held prisoner in Texas, where he started painting using makeshift materials. He returned to Italy in 1946 and settled in Rome, where he held his first personal exhibition the year after at La Margherita gallery. In 1948, he exhibited his first abstract work, Bianchi e Catrami, at the same gallery.
In 1949, Burri completed the piece entitled SZ1 using sacks; in 1950, he started the Muffe e i Gobbi series, using worn materials from previous sack works. Burri contributed to found the Gruppo Origine in 1949, together with Mario Ballocco, Giuseppe Capogrossi, and Ettore Colla. The group disbanded in 1951, yet it continued to operate until 1956 under the banner of Galleria Origine. In 1952, the Venice Biennial presented Burri's first exhibition, showing his piece titled Grande Sacco. International success came upon exhibiting in Chicago and New York in 1953. In 1954, Burri completed small flammable works on paper and continued using the theme of fire in the following years with Legni (1956), Plastiche (1957), and Ferri (1958 ca.).
Burri exhibited in 1955 at the VII National Quadrennial of Art in Rome, and in 1964 he won the Marzotto prize. In 1973, he started working on the Ciclo dei Cretti, encasing them in overlaid cement, creating an admirable examplar of Land Art. Burri started working for Cellotex in 1976, and in 1979 he returned to the Cicli, dominating his latest works. The first, titled Il Viaggio, was exhibited at the Ex-Seccatoi del Tabacco di Città di Castello, and he presented his other Cycles in Florence in 1981, Palm Springs in 1982, Venice in 1983, Nice in 1985, Rome and Turin in 1989.