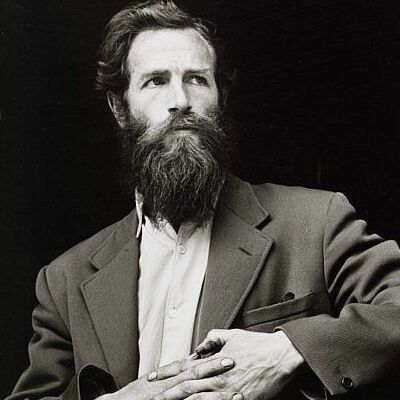 James Alan Davie (Grangemoth, 1920 - Hertfordshire, England, 2014) was a Scottish painter and musician.
After World War II, Davie played tenor saxophone in the Tommy Sampson Orchestra based in Edinburgh. He travelled to Venice and was influenced by other painters of the time, such as Paul Klee, Jackson Pollock, and Joan Miró. Particularly, his painting style owes much to his affinity with Zen. After reading Eugen Herrigel's book Zen in the Art of Archery (1953), he chose spontaneity over organization. Given that according to him a spiritual path is impossible to plan ahead, he tried to paint as automatically as possible. He was also fascinated by the work of the psychoanalyst Carl Jung.
Like Pollock's artworks, many of Davie's works were made while standing above the painting that was laying on the ground. Celebrating the primitive, he saw the role of the artist linked to that of the shaman, stressing the fact that disparate cultures have adopted common symbols in their visual languages. In his lectures, Davie emphasized the importance of improvisation as his chosen method. In addition to painting, whether on canvas or paper (though he preferred on paper), Davie has produced several screen prints. He found a public for his work also in America. His paintings appear both apocalyptic and triumphant all at once.