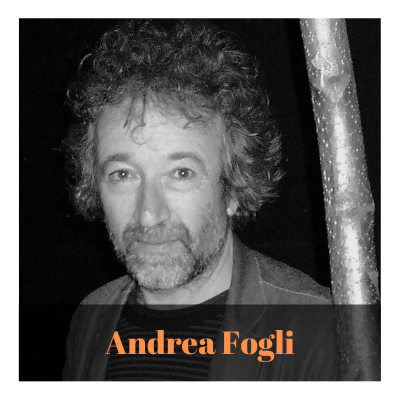 Andrea Fogli was born on the 25th of December 1959 in Rome, where he lives. After high school, in 1983 he graduated in Philosophy from "La Sapienza" University of Rome.  Since 1985, when he had his first exhibition in Italy at the Ugo Ferranti gallery in Rome (gallery which has represented him for over 20 years), he has experimented with different media: painting, sculpture, drawing, photography, installation, and performance, including writing.
In 2006, 2007, and 2008 he taught drawing at the Salzburg International Summer Academy of Fine Arts, the famous Free Academy founded by Oskar Kokoschka in the postwar period, where many of the most well-known international artists have taught. 
His most important solo-exhibitions/installations of the last 20 years took place at the Rupertinum-Museum Moderner Kunst, Salzburg (2000), at the Villa delle Rose-Galleria d'Arte Moderna, Bologna (2002), both curated by Peter Weiermair, and at the MARTA, Herford (2006), curated by Jan Hoet in the beautiful German museum designed by Frank Gehry. Other recent solo exhibitions include Wanderer at the Galerie im Traklhaus, Salzburg (2007), Vojage au centre du monde at the Meessen-deClercq Gallery, Bruxelles (2008), "Wurzelgetraum" at the Heike Curtze Gallery, Wien (2010). A large retrospective was held at the Casino dei Principi, Museums of Villa Torlonia, Rome (2013). On 25 April 2016, for the anniversary of the Italian Liberation, the solo exhibition "The ghost of History", which includes the cycle of 59 heads in Terracotta, was inaugurated at the Museo della Via Ostiense in Rome; in 2018, the group of 59 heads in terracotta was exhibited – with title "The angel of History"- at the Chiesa del Carmine – Museo Lanfranchi, Matera, European City of Culture 2019 (curated by M. Ragozzino) and in 2019/2020 in a large solo-room in the international group exhibition "Disturbing Narrativies" curated by Lorand Hegyi at the Parkview Museum of Singapore. Other recent solo exhibitions were set up in 2018 at Casa delle Letterature in Rome ("Diari d'opera" – Books and art editions from 1984 to 2018), and in 2019 at the Museo d'arte contemporanea, Lissone (Milan) ("Effemeridi del Giardino").