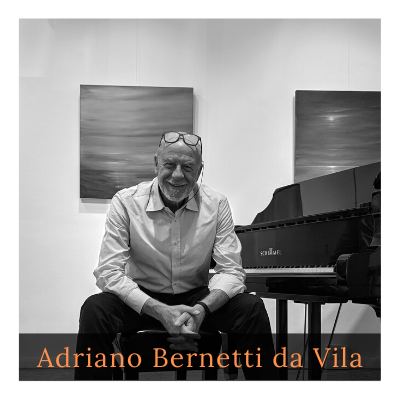 "Let's start with an assumption: talent is sometimes inherited in the genes. But each artistic career then follows its own path. This is the case of Adriano Bernetti da Vila, a Roman artist, son of the painter Ugo da Vila, active in 1900." Rosa Orsini
 Adriano Bernetti da Vila from childhood showed his passion for art, with an artistic vein, inherited from his father Ugo. His training and his professional life developed in sectors other than painting, but he always kept his artistic sensibility very much alive, finally dedicating himself completely to it.
Pictorially he was formed with a solid realist foundation, landscapes, still lifes, seascapes, nocturnes. After a phase of experimentation and technical transformation, but also emotional, he arrived at new ways of expression through the use of color, initially inspired by the current of "color field painters" of abstract expressionism, to then evolve towards a pure research of emotional use of colors, thus testifying the different shades of his artistic sensibility and his character.
Apparently irreconcilable languages are actually complementary passages that run after each other in his artistic research and from which he draws regenerative strength. The different pictorial souls of da Vila cannot therefore be separated. A present and continuous thread, an alternation of perpetuated languages to testify the formal relevance and emotional energy of the transposition in his painting. A journey still in progress, but Adriano is not so much interested in the point of arrival as, as in a journey by sea, the important thing is not only the destination, but the beauty of discovery and the ability to enjoy each moment, each atmosphere, of each moment of the journey to be shared with those who will stop to observe the works. (R: Orsini)
From the point of view of technique, certainly having studied the expressive modalities of realism allowed da Vila to significantly master the use of color and painting techniques, and there is no doubt that this greatly expands his expressive possibilities. , for this reason he has always chosen the oil which he considers a warm, pasty technique that allows a rich and complete expression.
The person in front of one of my paintings
In my exhibitions I have had the opportunity to receive feelings and observations of many people. This aspect of listening is for me absolutely fundamental because it complete the creative path capturing the emotions of people who look at my artworks, nourishing my expressive will.